Sunday's Black Dhal
A healthy version of what you may have had in dishoom, whilst wfh I have time to look after this while it cooks.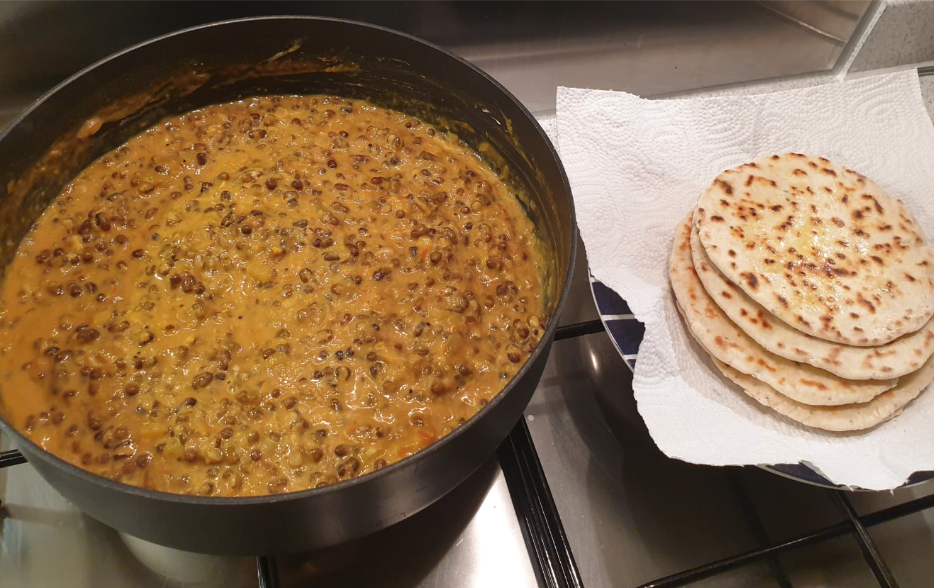 Ingredients
150g whole black urad daal
tea spoon crushed garlic
tea spoon ginger paste
table spoon tommy paste
half tea spoon salt (maybe more)
touch of chilli powder
touch of garam masala [whichever one you may have]
teaspoon butter
Method
Wash and soak the urad overnight
Pour out the water the next day and add the urad to a sauce pan, add about 2ltrs of water and bring to the boil, skim off any thing that rises to the top.
Then let it simmer for about 2-3 hours, top it up with water if you need to
Pinch the grains if they feel smooth, and not crumbly, switch the heat off. Let it relax for 15 mins or so
Mix all the other ingredients into a bowl (except the butter)
Pour away the water from the saucepan, and top up with fresh boiling water to cover the dhal then 3cm more above, and get it back on a low heat. Pour in the sauce mixture and get the butter in too.
Then cook on a medium heat, for about 30 mins, stirring so it doesn't stick regularly.
Turn the heat low, and let it simmer for another hour and half, stir it often and top up with more water if it reaches the grains, and it should start to turn into a creamy texture and thicken from the grains disintegrating.
When it's thick and creamy it's ready to eat.
Serve with Rice and/or naan and some shak (curry). For extra Indiana vibes, top with fresh coriander and lemon. If you want it extra creamy the healthy option is to stir in a spoon of yoghurt when you serve it.