Lucy's Perfectly Formed Veggie Dumplings
My wonderful friend Nina used to work after school making dumplings at her parent's restaurant when we were growing up. All of her dumplings are amazingly perfect and symmetrical. I wanted to learn this so she taught me how to shape them perfectly.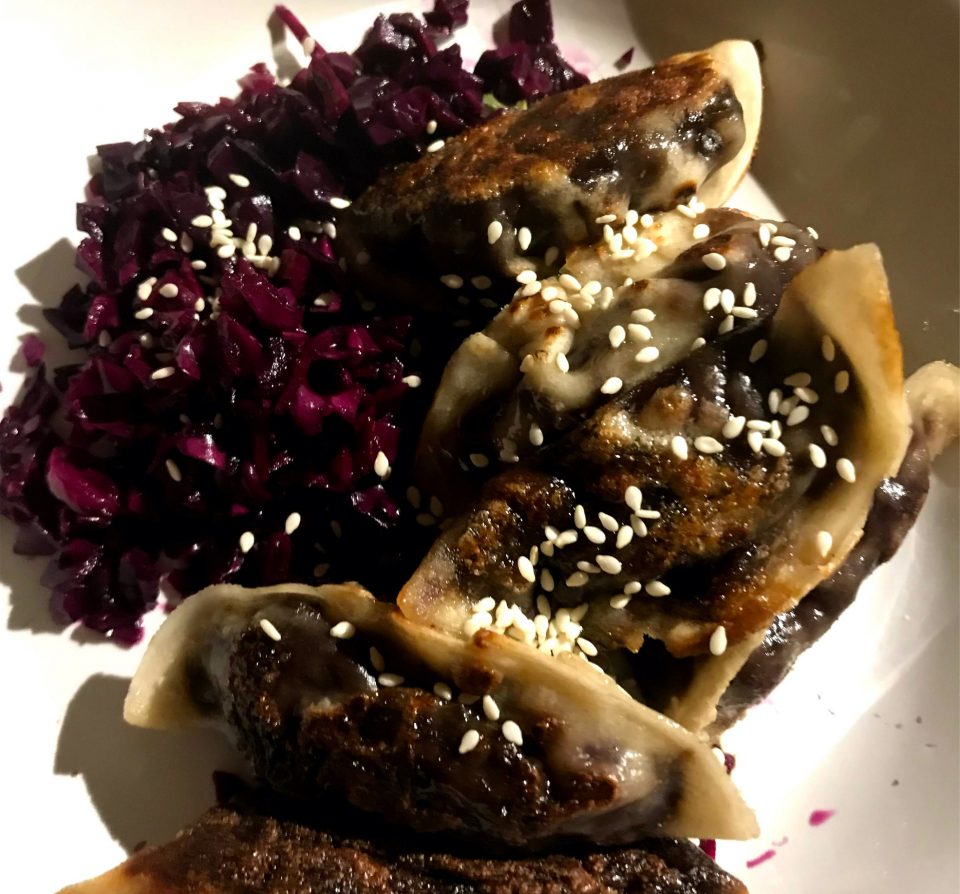 Ingredients
For the dough:
3 cups (400g) all purpose flour
3/4 cup (216g) boiling water
1 teaspoon (7g) fine sea salt
Dipping sauce:
3 tablespoons (44g) soy sauce
1 tablespoons (14g) rice vinegar
1 tablespoon (14g) hot water
1 teaspoons (5g) granulated sugar
1 teaspoon (4g) sesame oil
1 clove garlic minced
1 bunch green onion slice
Method
For the filling:
Place a large skillet or wok on the stove over medium-high heat.
Add oil, ginger, garlic, and cabbage.
Cook until cabbage begins to wilt and shrink down.
Add mushrooms, green onion, and carrots, along with the soy sauce and sesame oil.
Continue to cook until liquid begins to evaporate.
Season with pepper, to taste, and salt only if needed.
The soy sauce tends to add enough saltiness for my taste.
For the dough:
Into a large bowl, combine flour and salt
Use a wooden spoon to stir in boiling water
Continue to stir flour and water until the flour is mostly absorbed by the water
Mixture will be crumbly. Dump flour mixture onto a clean surface to knead the dough
Knead dough for 8-10 minutes, until dough is soft and smooth (you can add more flour to your hands if it becomes sticky)
Shape the kneaded dough into a round disc and using a knife, cut the disc into two equal portions and cover both with plastic wrap leaving for 1 hour
Cut the dough into 4 even portions to roll out (I used a pasta machine)
Roll it out until you can see light passing through the dough
Use a biscuit cutter to cut our circles of dough keeping the other dough covered in plastic wrap so it doesn't dry out. Don't place them on top of each other otherwise they will stick together!
Fill your wrappers with filling >> Watch a video to show how to create the pleating shape!
Steaming the dumplings:
You can easily steam dumplings in a bamboo steamer and line with a cabbage leaf so they don't stick
Place your dumplings onto the cabbage leaf/baking paper in the steamer leaving a little space between each dumpling so they don't get stuck together
Place steamer over a pan, wok, or pot of boiling water and cook with a rapid steam for 6-8 minutes
To make them more like a gyoza, I quickly fry them 1-2 minutes on a high heat in a pan with a little oil!