Katie's Pavlova – A Nice Slice of Home
Pavlova, although simple in its ingredients, is quite the challenge to master! To do it properly, the guide of an expert, Annabel Langbein (NZ Celebrity Chef) is an absolute necessity. A staple within my family home, this recipe brings me back to that little slice of New Zealand. Enjoy!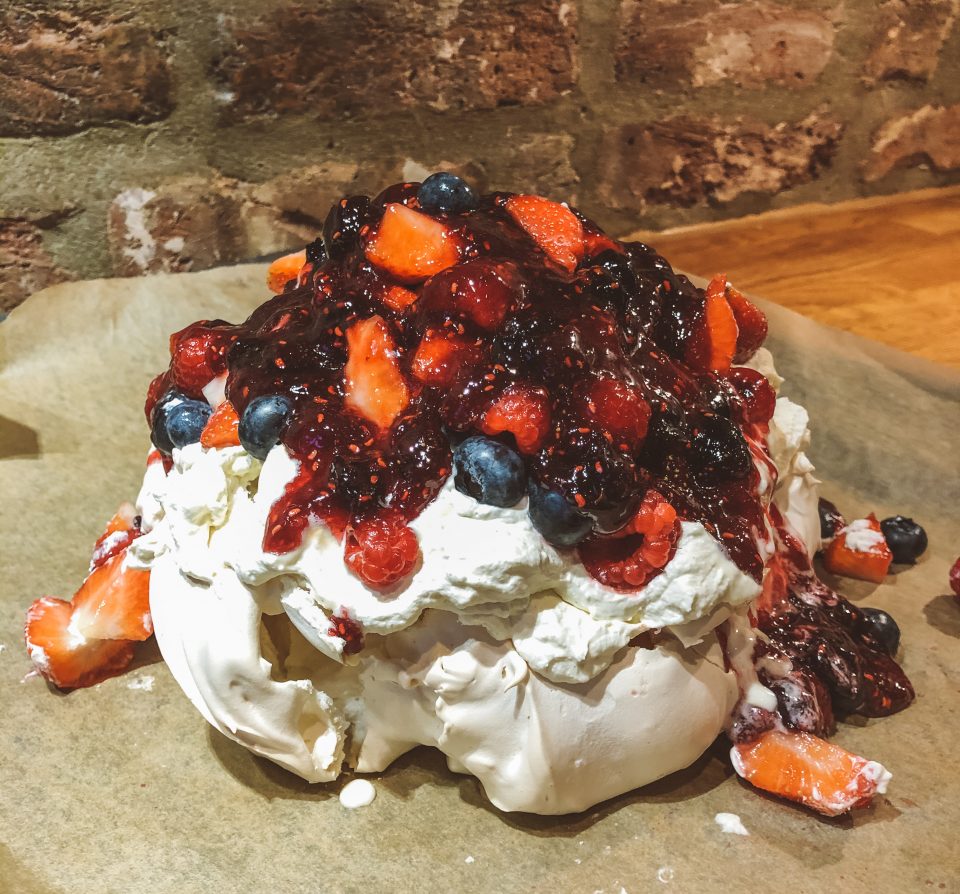 Ingredients
Pavlova
6 egg whites, at room temperature
Pinch of salt
1½ cups caster sugar
2 tsp cornflour
1 tsp vinegar
Topping
1 cup Berry Compote
3 punnets fresh mixed berries, eg raspberries, blueberries and hulled and halved strawberries.
Tip
To make a pavlova you really need an electric beater and egg whites that are not too fresh. If they are the pavlova will weep.
Method
Heat the oven to 180°C (not fanbake). Line a baking tray with baking paper and mark a circle about 16cm diameter with a plate. Place the egg whites into the clean bowl of an electric beater. Add the salt and beat until stiff. Slowly add the sugar with the beater running. Beat for about 10 minutes at high speed until the meringue is thick and glossy – it should be thick enough not to fall from the beater. Last of all, whisk in the cornflour and vinegar.
Use a big spoon to drop dollops of meringue into the circled area of baking paper. Form into a circle of meringue, making swirls with the spoon on the top rather than flattening to a neat tidy disc.
Bake at 180°C for 5 minutes then reduce oven temperature to 130°C and cook a further hour. Turn off oven and leave pavlova to cool in the oven.
Pavlova can be cooked a couple of days ahead and stored in an airtight container, or frozen. To serve, spoon Berry Compote over pavlova and scatter over mixed berries.
Borrowed from Annabel Langbein https://www.annabel-langbein.com/