Goodness, Gracious, Alex's Meatballs of Fire
After making do with tomato sauce from the jar for many years, my wife and I took the trouble to learn how to make a good sauce for ourselves. Having learnt how to [and enjoying the difference], we added some rumble. Life just tastes better with heat. The addition of chillies stuck and the common meatball become know as Great Meatballs of Fire for ever more!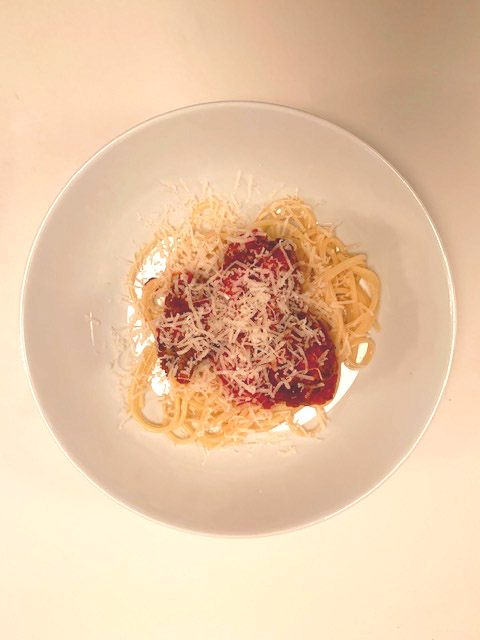 Ingredients
For the Meatballs:
Red onion medium
Dijon mustard (tablespoon)
Garlic – 2 cloves
Jalapeño peppers – 2
Breadcrumbs (2 slices)
Oregano (2 tablespoons)
Sage (2 tablespoons)
Egg yolk
Optional – bistro best (tablespoon – beef granules)
Worcestershire sauce
dash Marmite
teaspoon Mozzarella/cheese of choice for topping
for the Tomato sauce
2/3 Tins of plum tomatoes
Dash of oil
2 small chillis
Dash vinegar (cider if poss)
Tablespoon of oregano
Method
Tomato sauce:
Simmer sauce ingredients (except vinegar) together for 20mins
Take out chillis (chop and add back in for extra heat)
Mash tomatoes into sauce add dash of vinegar
Sauce is ready
Meatballs
Put oven on to 180 2 tablespoons of olive/rapeseed oil in a casserole dish (2 if using 1kg of mince)
Gently sauté onion with garlic, jalapeños and mustard – until soft
Mix breadcrumbs, oregano, sage, egg yolk and best together
Mix in the onion
Add dash of Worcestershire sauce and marmite
Mix in the mince – hands are best for this
Oil should be hot by now
Roll into meatballs size of your choice – golf ball size is good
Put the meatballs into the casserole dish and let them brown in the oven – shake them around the dish a few times
Ready when they are nice and brown (about 30mins)
Pour finished sauce over the balls and add cheese as required – cook in oven for 15/20 mins
Serve with any carb/veg ….pasta, mash potatoes, baked potatoes, chips, spirals of courgette, cauliflower rice, brown rice, crusty bread, subs, etc.